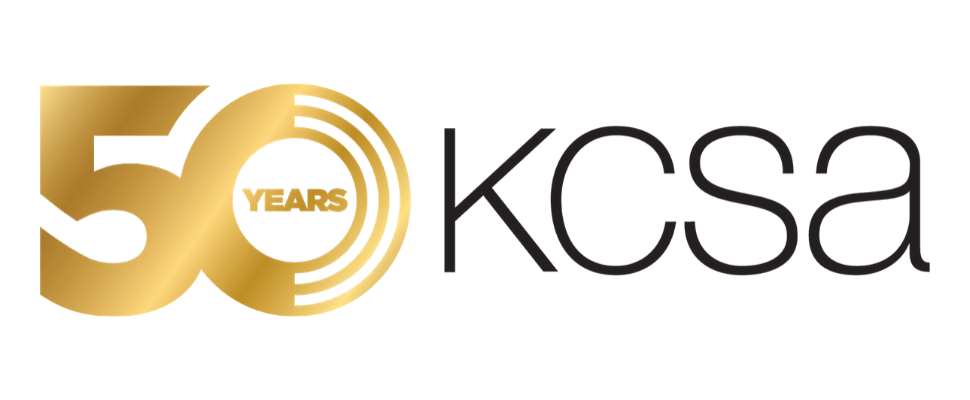 Celebrating KCSA's 50th Anniversary with Several Awards in 2019
It's official – KCSA is crushing it! In the year that marked our 50th anniversary as a firm, we've been recognized by several prestigious organizations for our PR work and flourishing cannabis practice.
KCSA was proud to be named in Observer's Most Powerful PR Firms of 2019. Since our management change in 2015, we've worked hard to build our 50-year-old firm into what it has become today. With a robust client roster that spans the technology, life sciences, financial and cannabis sectors, we've engineered a talented team of PR pros with the collective brain power to put together and execute our smart, complex campaigns on behalf of clients like Acreage Holdings, Cryoport, Syndio and Samsung Ads. Besides our killer PR campaigns, we also boast a thriving social media and investor relations practice, as well as The Green Rush, our very own weekly podcast about the intersection of cannabis, the capital markets and culture.
In addition, KCSA was named among a select group of powerful PR firms in The Deal's fourth quarter Power Rankings, a series of league tables which rank the firms that power the deal economy. As the 11th firm on the PR Firms Power Rankings for mergers and acquisitions, we were recognized for our strategic investor relations and financial communications counsel on M&A and fundraising transactions across nearly every industry, working with companies ranging from startups to multinational public corporations.
We were also recognized as a GOLD winner in Bulldog Reporter's 2019 Stars of PR Awards, which honors the best and brightest public relations professionals and agencies annually. Our firm was selected as a winner in the "Best Industry-Focused Agency" category for our work in the cannabis space.
We jumped into the cannabis space headfirst in 2014, and today, we are integral to heralding its story. Our team is proud to work with some of the biggest names involved in the legal cannabis space, making moves on behalf of up-and-comers and entrepreneurs and working through key milestones in their businesses. From raising capital, to recruiting talent, to winning customers and influencing public policy, our clients rely on our hardworking team to position their businesses for growth from a communications perspective.
KCSA was also among the select group of companies that operate in the legal cannabis industry to be recognized in mg Magazine's annual list of Top 50 Cannabis Employers for our excellence in workplace culture and employee satisfaction.
In addition to stellar health and retirement benefits, our firm offers its employees perks such as birthdays off, paid days off to perform community service and team outings like cocktail hours, movie nights in the park, boat cruises, and baseball games. In fact, in 2019, we kicked off our social responsibility efforts by hosting a company-wide day of service at a New York City food kitchen, God's Love We Deliver. Our team can also enjoy other perks, like a flexible work-from-home policy, discounted gym membership and a metro transit commuter benefit program.
We're thrilled with the recognition of our growing firm, and we're determined to set the bar even higher for ourselves in 2020!